—- Update October 2023 —-
Registering for School: Primary 1 August 2024
If your child's date of birth is between 1 March 2019 and 29 February 2020 they are due to start primary school in August 2024. You must register your child for P1 between 31 October and 17 November 2023.
This is the link; registration will be open from morning of
Monday 30th October:
Start primary school – The City of Edinburgh Council
St Mark's R.C. Primary School are holding their Open Day on
Thursday 2nd November at the following times:
9.30am – 10.30am
11.00am – 12.00pm
1.30pm – 2.30pm
This is an opportunity for families and carers to have a look around, meet the staff and pupils, and ask any questions they may have.
St Mark's address is 63 Firrhill Crescent, Edinburgh, EH13 9EE. The school telephone number is 0131 441 2948, and the email address is [email protected]
Please get in touch with the school if you have any questions.
Please share this information about our wonderful school with your friends and neighbours.
—- Update 14 May 2023 —-
Thursday 18th May is the Solemnity of The Ascension of The Lord and is a Holy Day of Obligation.
There will be a Vigil Mass on Wednesday 17th May at 7pm.
—- Update 16 October —-
A pastoral letter from Archbishop Cushley can be found here:
—- Update 26 September —-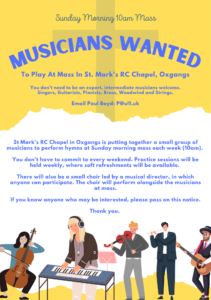 —- Update 14 August —-
Please note the minor changes to confession times (see Mass times page) – and thank you very much to the Fijian choir who joined us for Sunday Mass today!
—- Update 11 July —-
PLEASE NOTE THAT THERE WILL BE NO WEEKDAY MASSES
THIS WEEK
(11 TO 15 JULY INCLUSIVE)
—- Update 19 June —-
Please see the following pastoral letter from the Bishops of Scotland.
BCOS Pastoral Letter Corpus Christi 2022
—- Update 5 June —-
Please see the following letter for the Day for Life on caring for the older person:
—- Update 4 April —-
EASTER SERVICES AT ST. MARK'S
Holy Thursday
Mass of the Lord's Supper:                   7:00pm
Confessions:                                                9 – 11:00pm
Adoration at Altar of Repose until    11:00pm
Good Friday
The Passion of Our Lord:                      3:00pm
Stations of the Cross:                             7:00pm (followed by Confession)
Holy Saturday
Confessions:                                                12noon – 1:00pm
Easter Vigil:                                                  8:30pm
Easter Sunday
Mass                                                              10:00am
—- Update 27 March —-
This weekend, Archbishop Cushley sent a letter to be read out during Mass for SCIAF Sunday. You can find a copy of the letter here
—- Update 24 March —-
Friday 25 March
– Consecration of Russia & Ukraine
Pope Francis has asked us to join him in a prayer for peace and in the consecration and entrustment of Russia and Ukraine to the Immaculate Heart of Mary at 4pm on Friday (25 March).
Archbishop Leo will recite the 'consecration prayer' (see below) live on YouTube 
If you are available, please join him in prayer at that time.
—- Update 5 February —-
We no longer need to take the details of people who attend Mass, although please note that face coverings must still be worn inside the church (unless you have an exemption) and everyone must sanitise their hands on entering the church.
The obligation to attend Mass on Sundays and Holy days of Obligation is to be restored on 6th March 2022.
—- Update 5 January —-
You can read the January letter from the Justice and Peace Commission by clicking here.